The place to get all the latest updates on what's happening at Wasatch Barricade.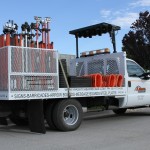 Thursday, June 23rd, 2011
Today we put into service three brand new Ford F350 Heavy Duty barricade delivery trucks. By expanding our Fleet, we will be able to better serve our Customers along the Wasatch Front.
Each truck is outfitted with a custom designed flatbed and is capable of holding a large variety of 4'X4′ signs and stands, as well as vertical panels, traffic cones, and the ever famous orange barrels.
This brings our total fleet of delivery trucks to 12.
Wednesday, June 15th, 2011
We hope with the launch of our new website we can continue to improve our service and provide additional information about equipment rental, purchase and trench safety and shoring. Don't hesitate to contact us with any questions or orders you may have!